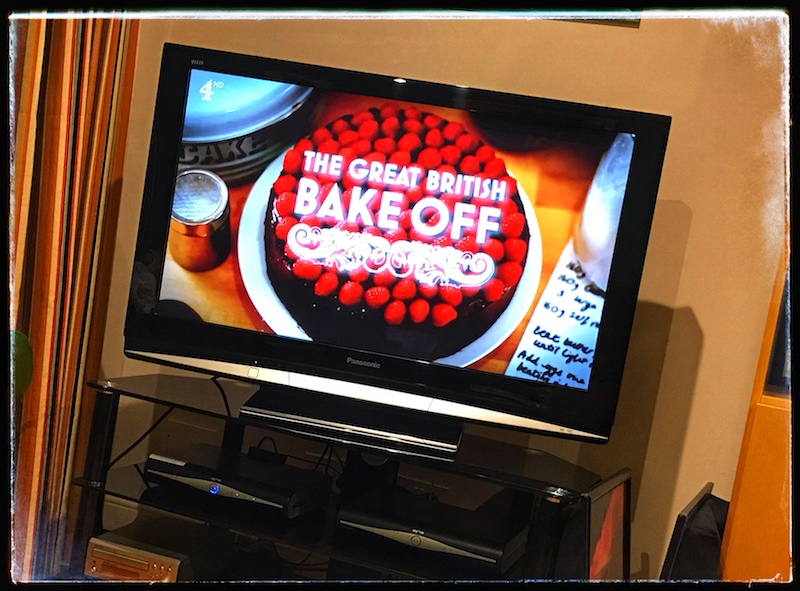 I've been writing a lot of Happynesshub blogs recently. This week, Tuesday hit, and with all of Sally's goings on, I needed to think of a subject last-minute I'd like to write about.
Then, Tuesday afternoon turned to Tuesday evening and I had my regular Great British Bake Off gathering with my two friends Katy and Gemma, who I had been watching with every week. It was a lovely evening – we ate dinner, had a good old natter, and then settled in front of Gemma's (truly gigantic) telly. Paul Hollywood tortured the three baking finalists with an outdoor challenge, whilst our hearts were warmed by Rahul's caring friends, who had taken him under their wing after he arrived alone in the UK. I ate far too many chocolate raisins and left Gemma's house with the warm fuzzy feeling I have been getting every week after our Bake Off session.
I settled at home, started my evening meditation, and five minutes in, I had a brain-wave (not the idea of meditation, I know). But after I'd finished (I carried on, despite being entirely distracted), I picked up my phone and sent myself a quick email – 'Blog – Bake Off and Friends'.
As I mentioned a few weeks back, I'd been having a pretty low time, and so, Katy's suggestion to create a weekly Bake Off meet up had seemed sensible. Instead of just going home on a Tuesday, I have been guaranteed company – every week, without fail.
And honestly, I looked forward to it every time. Whilst other social arrangements seemed overwhelming or exhausting, this simple, routined, relaxed and unpressurised socialising was making me happy.
So I thought about the aspects of this activity that were so positive for me. And I came up with three key characteristics: routine, social and creative (or, at least watching other people being creative!).
Routine
Routine is both a source of comfort and practical. If you think about your morning routine, it is likely that you do things in a certain order. For example, you might get up, shower, dress, eat breakfast, brush teeth, leave house. You do things in this order naturally, and so, the number of decisions you are making is reduced. It's practical – one day you decide to do things in that order, and from then on, you no longer need to think about it and your brain space is freed up to use for something else. What's more, routines create comfort – we have engaged in something many times before… we know this is a good way to do things.
I didn't have to think about my weekly Bake Off arrangement very hard – I didn't need to think about whether I wanted to go… it had been nice the previous week, it will be nice this week. It became a positive habit that I could look forward to.
Social
Humans are entirely social creatures. Having close, positive relationships is a key ingredient, according to Positive Psychology, to making us happy. Back in 2002, Martin Seligman and Ed Diener found that, amongst the 10% of students with the highest scores in personal happiness, the most prominent characteristic amongst them was their strong relationships with friends and family, as well as their commitment to spending time with them.
Not only was I regularly seeing close friends, sharing updates on our lives and confiding with them, but I was also watching friendships blossom on TV. I think this year of Bake Off  has portrayed a group of people who developed particularly strong bonds with one another. And this only enhanced the gratification I got from my regular positive social connection.
Creativity
This is somewhat of a stretch perhaps. However, bear with me because there may be something in it. Dr. Carrie Barron, Director of the Creativity for Resilience Program at Dell Medical School in Austin, Texasand co-author of The Creativity Cure, says that practising creativity can actually help to relieve feelings of depression. What's more, creativity can lower stress levels, improve your mood generally, and help you to become more present and focussed.
Now I know that we weren't being creative. But even just the process of watching people take butter, flour and sugar and turn them into amazing edible creations (shout out to Kim-Joy – you were robbed!) brings a real sense of contentment.
So, for ten weeks, I've had something in my life that was a reliable source of comfort and happiness – even during a difficult time. It was simple and convenient, and I just wanted to share it with you.
And if you are feeling a little down, or even if you aren't, think about setting up something similar – a regular, weekly social engagement with somebody you are comfortable with, doing something you are comfortable doing… and it might just make you feel really good!
By
Ilana