I love January, and I love stationery. In my eyes, they are two mutual loves that go hand in hand – on the first day of every year I'll open a pristine diary, and begin to fill it with everything going on in my life. Okay, maybe my love of January is an exaggeration; it's grey and cold and Christmas is done for another year, but that feeling of a new diary never gets old. But I was beginning to get frustrated – layouts that didn't work for what I wanted, to-do lists all over the place, or the disappointment of having to settle for something you didn't like.
Enter the Bullet Journal – a new type of working that helps me organise my life in the way that I like, and keep all the to-do lists I could ever want in one beautiful notebook of my own choosing – no phones or laptops in sight. Usually described as the middle ground between a to-do list, planner, and diary, a Bullet Journal allows you to document, organise, and reflect on your life. To start off with, it's a blank notebook, and it's up to you to fill it with things you need and want, in whatever style. It's great for organising what I'm doing on a daily basis, it helps me track my long-term wellbeing, including how I want to look after myself – and if I am. It encapsulates everything I could ever need including gratitude lists, habit, mood and medication trackers, music playlists, and, some of my most important pages, including my In Case of Emergency Self Care Kit.
I like to be organised but I'm sometimes not very good at it – let's face it, we all get distracted from time to time. My journal has its gaps but I've begun to train myself to keep track of information that is really important to me. Now, I remember to take my medication daily and not just once in a blue moon. I can see trends in my mental health dependent on my mood, and in the music I listen to, all because I've made it second nature to track things that are important in my life. Overall, it has been the most useful tool for understanding my own self-care and remembering what I need, when I need them most, and how to cope when times get really tough.
There are a great many communities related to Bullet Journals out there on various social media platforms, the most popular of which have nearly 100,000 followers. What's great is that not only is there a plethora of ideas which people share and are happy for others to try for themselves, but everyone is supportive. There is no judgement because there is no set way to use a Bullet Journal, and everyone is keen to hear other ideas. When speaking to other Bullet Journal users, it's obvious that it has hidden talents when helping with mental wellbeing and mindfulness, including a lady I spoke to with ADHD who uses it as a way of writing down her distractions to come back to later. Others have found that using a journal has helped them manage their anxiety, as well as the very busy lifestyles that we all seem to lead in one way or another.
A Bullet Journal is not for everyone, but it has been the most useful tool to helping me continue with my wellbeing journey, and for that reason I'll continue to sing its praises. Who knows – maybe it could work for you too!
For more info read my Bullet Journal 101 below or visit bulletjournal.com
Jo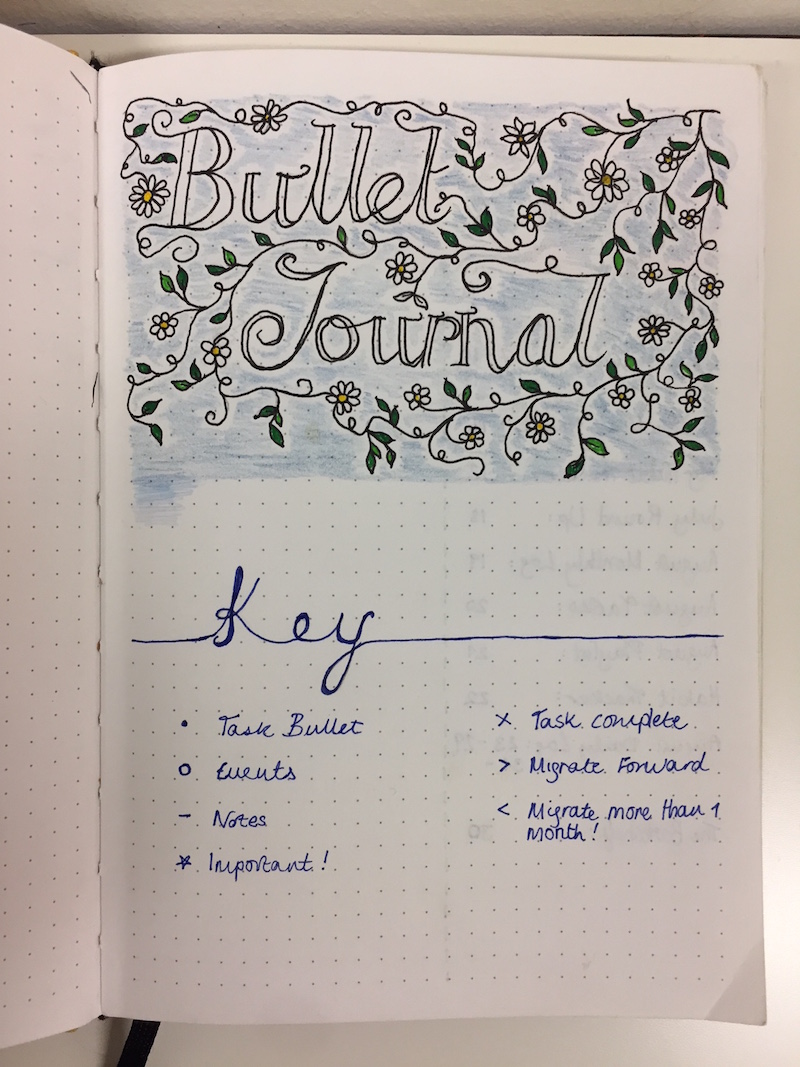 Bullet Journal 101
What is a Bullet Journal?
It's your diary, to-do-list and calendar, all rolled into one place. You can add as much or as little as you like, and what's great is that if it doesn't work for you, you can change it to your heart's content. The original system is designed to enhance productivity and organisation.
How does it work?
It's based on a key of symbols to help you organise things:
A bullet point, to signify a task or something you need to do.

A circle like this one, to signify an event or appointment.
– A hyphen to signify a note.
When you've completed a task or an event, you can cross it out with a simple X.
If you've written down a task, but need to push it to another day, you 'migrate it', by turning the bullet point into a right arrow, > and then write it where it needs to be. Simple.
How do I set one up?
You'll need a notebook of your choice, and a pen. That's it.
It's designed with three or four different spreads, depending on what suits you:
An Index – your contents page.
A 'future log' – your calendar for the next year.
A 'Monthly log' – a double page spread, one for the dates, the other for tasks to complete that month.
A 'Weekly spread' or 'daily spread' – your week-to-view, or your day-to-view.
Trackers
You can track anything you like, and many of these are about making progress.
Goals, habits, spending, savings, weight loss, medication and mood are some of the most popular things people track.
You can set them up in a variety of ways – graphs or tick boxes are some of the easiest. It's a great way of being able to look back at your month and see if any trends appear, and if you need motivation to continue.
Using your Bullet Journal for wellbeing
Lots of people use their Bullet Journal as a way of self-care, and not just the content within them. Lots of people decorate them because they find it therapeutic.
Meditation, yoga, stretching and mindfulness trackers are very popular, to document processes.
In Case of Emergency Self Care Kit – writing down the things that make you happy when times get tough, ready for inspiration whenever you're having a bad day and need a pick-me-up.
Gratitude lists – many people incorporate their gratitude lists into their spreads, helping them focus on the positives of their day.
Other page suggestions
Monthly round up pages – I always like to use it to round up what's happened each month – places I went, exhibitions I've gone to, any big events.
Monthly music playlists – A song a day for the whole month. Great for music lovers who listen to a lot but sometimes forget great songs!
Meal plans and grocery shopping lists – your go to for whenever you need something.
'Brain Dump' pages – to get that niggling thought out of your head when it's distracting you.
Books to read, movies to watch.
Travel plans.
Quote or doodle pages.
Inspiration