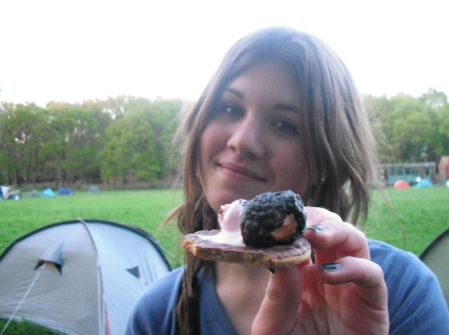 This week we have a contribution from the lovely Issy, who so kindly has reflected on her experiences doing the Duke of Edinburgh's 'D of E' scheme, which has enriched the lives of countless young people since Prince Philip set it up in 1956.
I had a strange complex when I was younger which consisted of me telling everyone who'd listen that I hated the countryside. This didn't stop me from signing up for the Duke of Edinburgh award, of course. My friends were doing it, I wanted to be included, such is teenage life.
We were all assigned something important we had to bring. Mine was the tent poles for me and my friend Anya's tent. I turned up on the day with a lot of things, including a highly inappropriate Gilly Hicks vest top and severely over-plucked eyebrows — but without tent poles. The teachers gave us the spare tent which incidentally didn't zip up. My Dad texted to call me a nitwit which Anya found very funny, but she lost her sense of humour about halfway through freezing into a block of ice that night. I understood. The following morning I stayed in the tent much longer than her, plucking up the courage to go outside. Just kidding, I was plucking my eyebrows — but it was because I was afraid to be seen by the others, not knowing how I looked. Time waits for no man, however, and we set off.
I complained a lot. I told people that I didn't like fields. About five minutes in I posed for a photo with a sad face to indicate how sick I was of walking. The hooks of my boots caught together so I did a kind of mad, prolonged wobble and crashed to the floor. This didn't just happen once. I learned my lesson and tied my laces up properly after about the third time, I think. But there was something about being pulled to my feet and brushed off by the others that was special. There was something special about all of it. It felt like something had fallen away. Something other than me falling over repeatedly, I mean. Some of that endless pretence, that trying-to-be. I felt like the barriers between me and my classmates disappeared. We were closer. I stopped worrying about how I looked and how I was acting. I felt the air on my face, the bark under my hands, the mud on my knees; I saw the green hills of Surrey and they were so beautiful.
During our walk we got lost and passed by the Burford Bridge Hotel, where I was much later to discover that Keats had come to finish a poem, 'the last one of those immortal songs (Called by the critics of his day 'mere rhymes')', as Ella Wheeler Wilcox wrote. I thought about all of this when I heard the news of Prince Philip passing away. I thought about my grandfather, too, the man who bore the brunt of my rants against the country. He took it very good-naturedly and called me a 'townie', and one day when we were walking he found that one of his chicks was ill. My countryside cousins were much more hardened to this sort of thing than I was and resumed kicking each other or whatever we had been doing before, but I remember feeling quite shocked. My grandfather gave me the chick to hold and told me I might be able to warm it up. I took on this duty very self-importantly and studied the chick's little face as we carried on our walk. It started to move around a lot right before it died, so I thought it was getting better. This was my first experience of death, and looking back now, after recently losing both of my grandparents, it's strange to think of.
I didn't really hate the countryside. I just thought it was cool to say 'ew!' at mud, to run away from sheep and cows as if I was terrified of them, to hide behind the boys, to not know the difference between types of trees, to not know how to read a compass or a map; to just not know things, I suppose. But I do know that the Duke of Edinburgh was a wonderful and important experience for me because it opened up the countryside in all its beauty and glory and, yes, death. It's spring now, the season of new life; but Keats wrote poignantly about the beauty of the countryside in its dying time, when 'with treble soft, the red-breast whistles from a garden-croft; and gathering swallows twitter in the skies.'
Thank you so much, Issy, for taking the time to write such a beautiful, reflective and inspiring piece. Knowing that the Duke of Edinburgh had a real impact on so many young people is truly heartening at this time and I hope your funny and poignant words will put a smile on the face of our lovely readers.