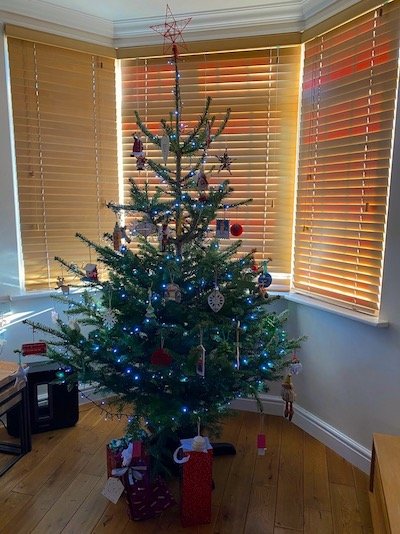 It's Christmas!!!!
I love a Christmas tree – it has to be one of my favourite things of the festive season. The reason being it's a chance to bring out the eclectic collection I have of decorations to adorn it. Not that it's always been that way.
When I first moved to London I took a trip to Woolworths to purchase a 3 for 2 offer of lights and decorations (I love a bargain). Looking back they were a plasticky mess of red and gold, but they encapsulated the festive spirit. Since then I've upgraded the tree decorations – some purchased from the John Lewis Sale (did I say I love a bargain) and some made / received as gifts. As I unpack the box and pull out those decorations it brings back the memories of who gave them to me and the fun times we've had together. And this year it has more meaning, as some of those people I haven't seen since last Christmas.
Just to share with you a few of the decorations and the meaning they have:
This Nutcracker soldier was given to me by a friend of mine who used to live in Brussels and reminds me of the time I went to visit her and hopped over the border to the German Christmas Markets. The markets are amazing with some truly beautiful hand-crafted gifts and Gluhwein served in a boot – who would want more! We had a fun day exploring, buying, eating and drinking – a truly magical festive experience and one I would recommend doing if you get the chance (Winter Wonderland really isn't a patch on the real thing).
The Christmas Tree and Gingerbread person was made for me by my Goddaughter and her sister. I always visit them on Boxing Day (and usually get a home-made Christmas gift). There is usually eating, drinking and pretending to be asleep in front of a roaring fire as they try to wake me – everything Christmas should be. But this year we're having a zoom call instead – it's not quite the same but thanks to technology at least we can see each other.
This little fella I purchased during a work trip to Canada. It was a great time, although mighty cold at -18 oC. Every time I see it on the tree it reminds me of that wintery shoot and sharing hot chocolate with the team whilst the snow fell outside. It was a bit like a Hallmark Christmas movie… the setting not the plot line!
Then there are a few decorations bought for me by Sally – a beautiful St Stephen's Tower (not Big Ben as that is the nickname for the bell inside the tower – a bit of trivia for any upcoming zoom quizzes – you're welcome!) purchased during a tour she went on with her dad. An embroidered bauble with my name from her trip to Thailand (I think this was what started my eclectic mix). And, of course, a happiness hanging heart – what else would you expect from our Happiness Lover! It reminds me of those wonderful Christmas celebrations we've had over the years.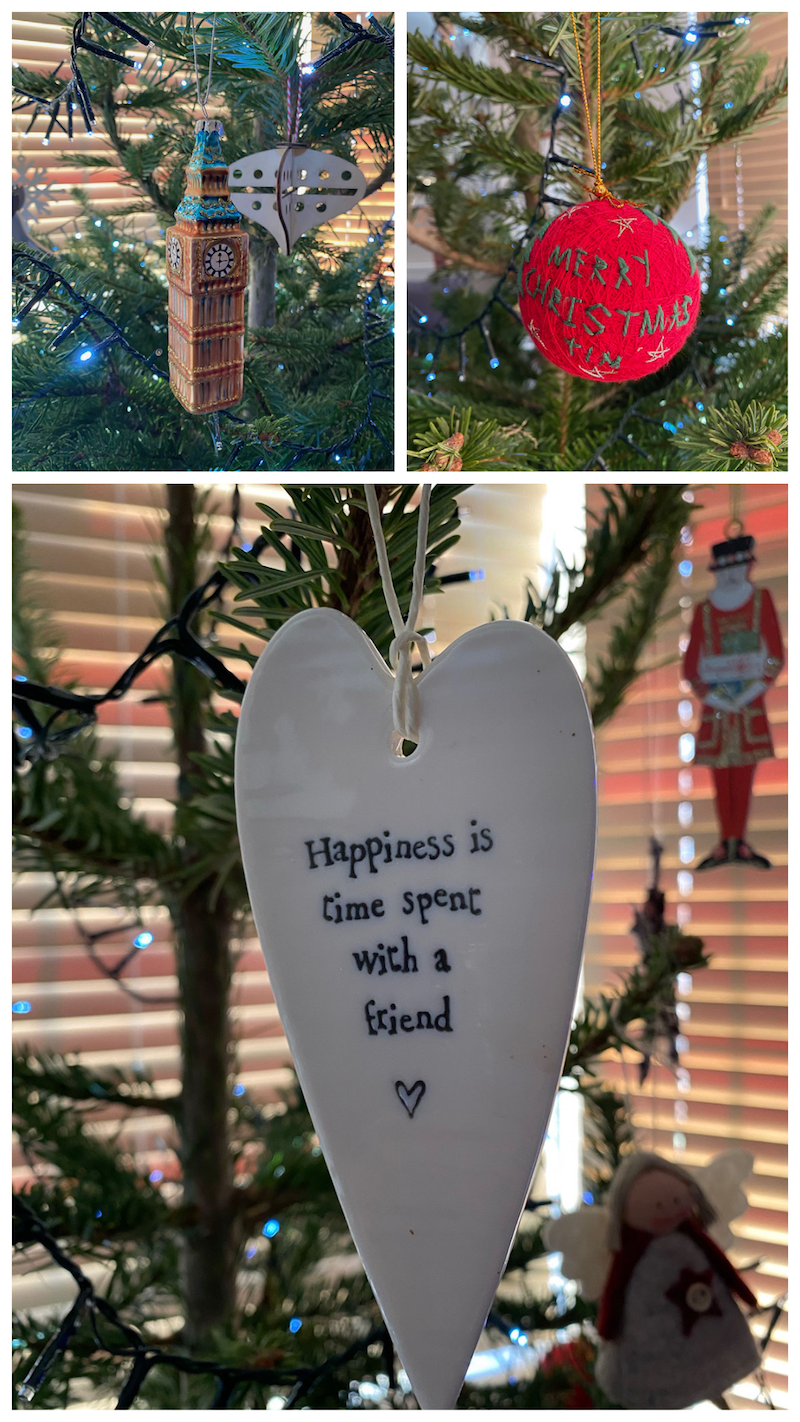 At a time when we can't physically be with those we would like to this Christmas, reflecting on something that reminds us of them can help our well-being. It doesn't have to be an ornament on a tree, it could be a photograph, a Christmas card or a memory. And why not take time to drop that person a text, an email or go old fashioned and give them a call. Hearing from you might just be the gift they need…