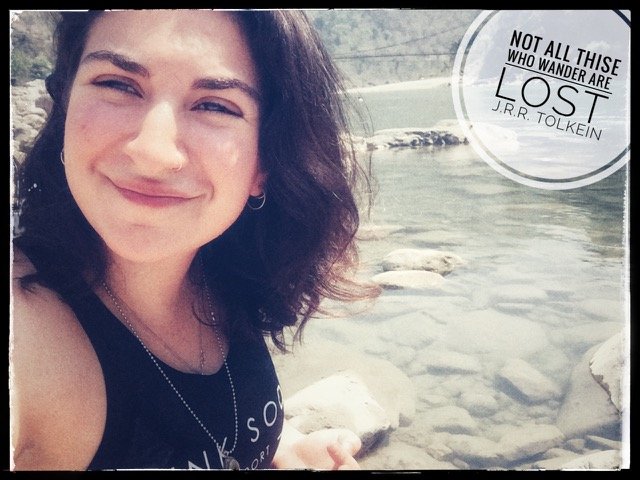 I've been feeling a little bit down if I'm honest. I arrived home from India on Saturday morning and it has actually been a lot harder than I expected. The culture shock of coming straight back into London after six and a half weeks in India was pretty intense. Going from being constantly on the move, with all my possessions stuffed into a rucksack, back to my everyday Western life is a big shock to the system. So, I thought writing a blog could be a therapeutic process, and would give me an opportunity to share my experiences with you Hubbers!
And what I really want to reflect on is solo travel.
After a few weeks in India I decided to stay a little longer than planned. I had set off on my adventure with my friends Gabbie and Neil, but, since they were headed for Nepal, extending my trip meant taking my own path, alone. After taking some time out at a yoga retreat in Rishikesh – in the foothills of the Himalayas – I flew down to Kochi in Kerala – right in the very south of India – with a plan to head north to Goa and then fly home.
The time I spent alone was certainly more challenging than when I had been in a group. Despite the fact that the south of India is more relaxed, my mental highs and lows intensified, I got lonely and anxious at times and yet the sense of accomplishment and fulfilment in doing it alone was huge.
And so, of course, with this all on my mind, I started doing a little research into the impacts of solo travel on mental health.
Now it is unsurprising that travel, alone or with company, hugely benefits our minds. Adam Galinsky, social psychologist at Columbia Business School, has said that going to a new place and being immersed in a new culture enables us to digest and take in new information without rejecting it, thus enabling us to break entrenched habits and see different perspectives more easily. This leads to greater tolerance and creativity in our minds. What's more, clinical psychologist Dr. Tamara McClintock Greenberg has explained that travel takes you away from everyday stress and this enables your mind to relax, recharge and rejuvenate.
Travel also puts materialism into perspective. According to a study at Cornell University, spending your money on experiences rather than material items brings you more lasting happiness (and if you look back to my last blog this is definitely something I learned on my travels). People 'adapt' to physical objects – yet their meaning and the happiness they bring you decreases over time and you always end up wanting more. However, looking back on one-off experiences will not stop bringing you happiness. George Lee Mallory, an explorer, last seen in 1924, disappearing into the clouds up Mount Everest, said of climbing the mountain:
'What we get from this adventure is just sheer joy, and joy, after all, is the end of life. We don't live to eat and make money. We eat and make money to be able to enjoy life. That is what life means, and that is what life is for.'
Travel is about experiencing – and these experiences bring so much more wealth than any material objects.
So it is a no-brainer (no pun intended) that travel makes us happy. But what are the benefits of going alone?
The first benefit of solo travel, strangely enough, is the social benefit. According to neuroscientist Dr. Robert Lustig one of the 'Four C's', that are vital to fulfilment in the modern age, is connection. Travelling alone means that you are more likely to connect with new people. I would strike up a conversation with so many strangers (something very unfamiliar as a Londoner). The inhibitions we carry about 'what people think' disappear because, really, you have nothing to lose by interacting with this new person. And more often than not, you find that you connect to other travellers quickly and easily because you are going through similar experiences. These interactions, not only make you happy, but also make you more likely to reach out to new people the next time.
Secondly, solo travel creates resilience. Before I left, I wrote a blog about getting out of my comfort zone and this certainly did that. Matthew Bowker, a psychoanalytic theorist and solitude researcher, explains that people need 'the ability to know that you're going to survive, that you're going to be okay if you're not supported by this group'. Travelling alone teaches us this. We simply rely on ourselves. Any problems we face, we face alone and anything we achieve, we achieve alone. As we do this, our self-confidence and resilience grows and we become comfortable in being our own source of support.
There were lots of solo travellers in India who told me they so much prefer travelling alone than in a group, and this is a personal preference. For me, it was certainly more comfortable travelling with company. It is comforting to have a familiar person with you all the time. The pressure to make friends is lower and you are supported in the day-to-day challenges of travelling around a new place.
Solo travel was far more of a challenge, and yet I am so glad I did it. Not only did I have the freedom to move whenever and wherever I wanted (which I loved and enabled me to see more amazing places), but I learned to be confident in looking after myself and solving my own problems, and made connections with people that I probably wouldn't have if I had anybody with me.
So in my current (slightly dazed) state, those are my thoughts. I had the best experience and, whichever stage you are at in your life, I would encourage you to think about, not only travelling, but about travelling to a place or in a way that challenges you. It might not be as relaxing as lying on the beach in the South of France, but the rewards will be far greater than a good suntan.
By
Ilana