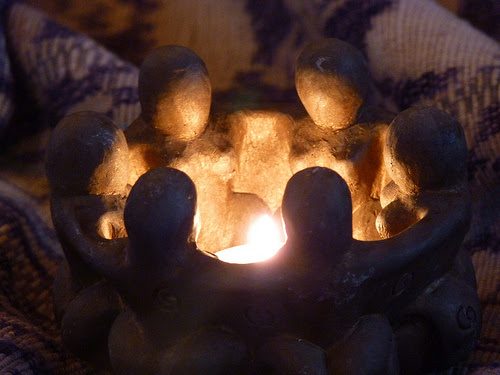 Welcome to the weekend, and to your Happynesshub newsletter! I am sending you my love and hoping you are doing very well. I don't know about you, but I relish this time of year; watching the seasons change and the old leaves and branches falling down from the trees, making way for and nourishing the new life to come. Although it's not the traditional 'spring' clean, I feel the autumn is an equally good time to look to the future with a bit of decluttering, and I've been doing just that – having a good proper sort out at home! I often reflect how, by now, I really do integrate all of the '21 Days' tools into my daily life. However, two that I make use of slightly less often than the others are Digital Detox and Decluttering. I'm still feeling the effects of the concussion physically, but something great that has come about because of it is that I've taken a proper break from all my devices. This is because my brain really cannot tolerate looking at them for too long, but I'm very much okay with this – it's a real relief, in fact! So, as we shift from one season to another, my break from devices, my decluttering and my rest has allowed me to make space for new, exciting things to enter my life.
The process I have been using to declutter is to look at something and see if it brings me joy. Real joy. If not, it goes in the charity box. The decluttering seems to have had a genuinely transformative effect, as not only does it make daily life easier (I can now see my options for what to wear in the morning, I am now able to reach my face cream without moving 3 other jars) but most importantly it somehow feels like I am clearing away bad energy, leaving room for that new emergence. I can't recommend it enough on multiple levels.
"The first step in crafting the life you want is to get rid of everything you don't."
Joshua Becker
And in this vein of creating room for new things, I would love to share with you more about a fabulous retreat (which I supported with last year), that is recurring soon and which I'm very excited about. It's also about the turn of the seasons and allowing fresh growth for ourselves, and it's called the Rekindling Community Circle. Here's a little snippet of info sent over by my dear friends at ServiceSpace:
Theme: Nurturing Our Inner and Outer Light
As seasons change, we invite you to get cozy as you prepare to gather around a virtual fire on Tuesday evening to reconnect as a community. Find a comfy spot in your home for the two hour call, bring along a warm blanket and your favourite warm drink (surely cold weather must mean hot chocolate season is here!) and prepare to dive into a nourishing circle with noble friends. We invite everyone to light a candle which is visible somewhere on your Zoom screen (it could be in front of you or even on a table behind you, get creative) :) to create a beautiful, warm space for everyone to open their hearts and share stories, songs and poetry.
In addition to some beautiful offerings from our London community, our dear friend Nimo will virtually join us from California for this gathering to share his amazing Empty Hands Music!
Last year's retreat was again transformative for me. Gathering with like-minded souls to self nurture, share time together, create a space of giving and mutual support, alongside music, readings, poetry and more can only offer solace and joy. In many ways it also comes back to many of my sharings about finding time to 'be', to give to oneself as well as to others and to be in a gentle, safe, nurturing place.
The Rekindling Community circle is on October 26th at 7:30pm, so please do consider joining us if you would like to, Hubbers. Otherwise, before the clocks go back here in the UK, how about finding an hour or two to do one of the Happynesshub tools this coming week – clear out a cupboard, turn all your devices off, do that thing that brings you joy, or simply be super kind to yourself or another.
Whatever it may be, wishing you a happy weekend as well as nurturing days ahead. Have a good fortnight. Oh and Happy Halloween!